Intelenet Global Services, now operating as a subsidiary of Teleperformance D.I.B.S., has garnered a mixed reputation. Former employees have expressed concerns about misleading job roles and management-related issues.
In this post, we will check the company's reliability and transparency, which are often questioned.
What is Intelenet Global Services?
Intelenet Global Services, also known as Intelenet BPO, is a business process outsourcing (BPO) company with a significant presence in the industry.
It claims to be a job listing, customer service, and rewards platform, potentially offering job opportunities and benefits to users.
These services encompass omnichannel contact center support, digital transformation, robotic process automation, artificial intelligence and analytics, transaction processing, finance and accounting, human resources outsourcing (HRO), and IT services.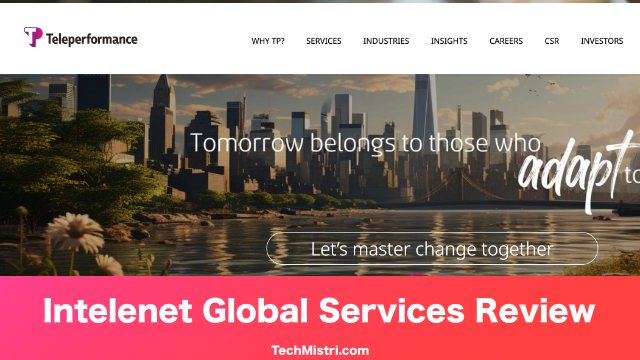 There are claims that Intelenet has been operating as a subsidiary of Teleperformance D.I.B.S. since 2018.
Its website IntelenetGlobal.com redirects to Teleperformance.com now.
The company caters to clients in various countries, including the UK, US, Australia, and India.
It claims that it does not take any kind of application fee to apply for the job at the company.
Read: Venus Creative Technology Review
Intelenet Global Services Review
Despite having a strong history, we have found some negative aspects that concern Intelenet Global Services:
Some users have reported being offered different roles than initially promised, leading to dissatisfaction.
Concerns about company management and transparency have been raised, affecting the overall work experience.
There are complaints regarding the working environment, salary, provident fund withdrawals, and joining date.
The company's history of acquisitions may have introduced operational changes and variations in service quality.
From our point of view, Intelenet Global Services is a legal company, as it has a vast history of a series of transitions and acquisitions, underscoring its adaptability and resilience.
Using this as an advantage, there have been instances of fraudulent activities where individuals pose as representatives of the company, offering job opportunities.
They initially extend job offers and request personal information, including bank details.
Whatever may be the reality, Intelenet Global Services does not exist anymore as it is acquired by Teleperformance.
It is crucial for job seekers to exercise caution and verify the authenticity of such offers to avoid falling victim to these fraudulent schemes.
Read: GlowRoad Review
FAQs
Is Intelenet Global Services a legal company?
Yes, Intelenet Global Services is a legal company with a history of providing outsourcing services to clients globally.
What services does Intelenet Global Services offer?
The company offers services such as contact center operations.
Why do people pose as Intelenet Global Services and offer fake job offers?
They generally do this to collect the bank details of individuals.
Is Intelenet Global Services associated with Teleperformance?
Yes, Intelenet Global Services was acquired by Teleperformance, a France-based BPO company, in 2018.
Does Intelenet Global Services operate in India?
Yes, Intelenet Global Services operates in India and offers domestic BPO services in various sectors.
Read: Hedgex Fund App Review