This post is about MLM company comparison. As an Indian MLM analyst, I will compare the three most popular truly Products Based MLM Company In India, Vestige, Modicare, and Amway.
The reason behind calling these companies truly products based is the quality and range of products they provide.
After banning of the pyramid scheme, many companies use dummy products to show them as an MLM Company. And in India, Suit Length is the most popular dummy product 😁.
But Vestige, Modicare, and Amway have done great focus on products. But after being number 1 MLM Company, Amway is still facing several allegations for selling overpriced products.
So, today we are going to compare these three MLM companies, which is Vestige vs Modicare vs Amway.
We will try to figure out the Best MLM Company for Indian Market. so let's start the comparison.
Why Vestige vs Modicare vs Amway?
So first of all, I should clarify why I have chosen these three companies for comparison?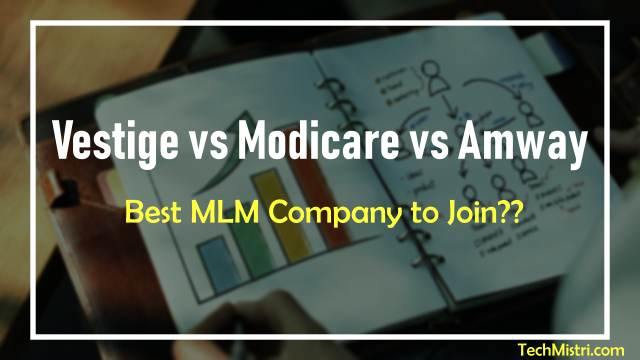 Basically, this post is written according to the Indian Market situation. And from a decade Vestige, Modicare & Amway are the ruling Indian Network Marketing companies.
Vestige & Modicare are Indian Company which are giving tough competition to American Company Amway, which had captured the large Indian market before Vestige and Modicare got popularize.
But Vestige and Modicare have better J-Curve growth compare to Amway. And now Vestige is one among the top 100 MLM companies in terms of revenue.
These three companies also have a common range of products. And the last point, most of the direct sellers from Vestige, Modicare, and Amway hates other companies. Means Vestige member hates Modicare and Amway and so on.
Parameter of Comparison
A comparison without proper parameter is meaningless. So, here we will use the following parameter to compare these MLM companies.
Joining Amount
Market Saturation
Products
Income Plan
Company Support
Direct Seller's Experience and
Allegation against Company
Joining Amount
Before Direct Selling Guidelines comes to existence in India many companies were taking joining fees. But now no company is allowed to do so.
Vestige, Modicare, and Amway don't take any joining fees (Excluding Form Filling Charge). But to start earning from these companies, a person has to purchase products of the threshold amount they set.
Until you don't purchase products of this threshold amount, you are not able to start your network and that threshold amount varies from one to another company.
In Amway, you have to purchase products of around 100$ means 7,000 INR to become active Amway Direct Seller. In vestige, you have to do 30 BV personal purchases means around 1500 Rs.
And last, in Modicare, your accumulative BV should be 25 which is cost below 100Rs purchase.
So, to become an active direct seller of Vestige, Modicare & Amway you have to purchase products of around 1500 Rs, 100 Rs & 7000 Rs respectively.
Note: In most cases, higher your personal products purchase higher will be your retail profits. So, the threshold amount is not the principal factor to judge any MLM Company. But, the threshold amount should not be so high where a person has to buy products of 10,000 Rs to start networking.
Products
Products and Services are the most prominent in every MLM Company.
Products Quality
Products Demand
Products Range and
Products Price
are vital for the direct seller who joins the company.
Vestige, Modicare, and Amway three of them are products based and in terms of Products Quality, Demand, and Range all of them performed well. But the pricing of the products is making a difference.
We are making a comparison with a common product which three of them sell i.e. toothpaste. We will consider their base toothpaste price in 100 gms quantity.
Vestige's Dentassure Toothpaste and Modicare's Fresh Moments Toothpaste cost 75 Rs for 100 gm packaging.
And Amway's Glister Toothpaste cost around 142 Rs if we take the quantity 100 gms. (Actual price is 270 Rs of 190 gms.)
It concludes that Amway products are overpriced compared to Vestige and Modicare. And like toothpaste example in most of products cases, similar situations arise.
And if we compare the product price with a non-MLM company, even Vestige and Modicare products also seem a little overpriced. Again take toothpaste example, Colgate's Strong Teeth Toothpaste 100 gms package priced 49 Rs.
So, the MRP of Vestige and Modicare products is a bit overpriced, but Amway crossed the walls of pricing. No doubt, Amway provides good products, but what to do when most of the people around us can't afford them.
If you want to check the Products Price List of Vestige, Modicare and Amway click on the below link.
Income Plan
Comparing income plan is not fusible. Because some MLM Company facilitates more income on direct sells and some on sells by the network.
In MLM primary income depends on the sells generated by the downline. Every MLM company have different types of level, profit percentages, and incentive.
For example, if Company A gives 10% and 15% profits on 1000 Rs and 2000 Rs products purchase respectively and Company B gives the same 12% profits on both 1000 Rs and 2000 Rs purchase. ( Net profit from Company A will be 400 Rs and from B will be 360 Rs)
Till 3000 Rs purchase Company, A seems more profitable, but there will be more chance of income fluctuation until we reach 5000 Rs purchase.
So, the calculation of comparing income plan of Vestige, Modicare & Amway will take a different way.
Market Saturation
Every company requires a limited amount of distributor to cover a particular area. As the area and demands increase, the number of distributors also increases, but up to an extent. And that extent or limit is called Market Saturation.
After, market saturation occurs the company can't add more distributors. The same situation is also seen in the MLM Industry.
Vestige, Modicare, and Amway have all been for more than 10 years. So, we can't doubt on their stability and existence like new MLM Companies. But the concept of market saturation arises.
In MLM when Market Saturation comes to the door of an MLM Company, the rate of joining of new direct seller get reduce. And due to saturation, the direct sellers have to work more for the recruitment process.
At last the job of recruiting new people gets harder.
Most of the people, whom I have asked about Amway have an impaired image in their mind. Amway infamous for the overpriced products and also adversely suffering from Market Saturation.
Most of the direct seller has zero interest in Amway and today people prefer to join MLM company about which they listen for the first time and not that one company which started in the year 1959.
After Amway, Vestige will be next to reach Market Saturation. Because it is the most popular Indian MLM Company and has more than a Million direct sellers.
To reach market saturation Modicare has more time compared to the other two, which is a good signal.
Company Supports & Training
Earning always comes after learning. For a new Network Marketer, training and proper guidelines to work in an MLM Company always required.
And today only a few reputed MLM Companies provides that support. In the 21st century, every company has several ways to show their support.
Apart from the classroom training sessions, today online training is in trend. Most MLM companies have launched the number of training programs on their apps and websites.
Because online training and support is a one-time effort and then every direct seller can access them anytime and anywhere.
If we look towards Vestige, Modicare, and Amway three of them conduct seminar as well as online training sessions.
Vestige official Apps have an online training feature and Amway has also launched Amway India Learning Academy.
Modicare online training course is available on training.modicare.com.
Moreover, Vestige, Modicare, and Amway all of them also release their Products Catalogue regularly. Products Catalogue are a vital marketing tool for every direct seller.
You can check their catalogue by clicking the below link.
So, on the basis of Company Support for the direct seller. Three of them have performed equally.
Direct Seller's Experience
You may get shocked by knowing that, in MLM only 0.4% of people get success.
The stats are calculated by Jon M. Taylor (MBA, Ph.D.). He has done 15 years-long research on 350 MLM Company including Amway also. He found that only 0.4% of people are getting good profit and 99.96% of people are losing money in purchasing overpriced products.
His research got published on American Government Website FTC. So, we can't ignore his conclusion on Network Marketing.
Now come to Direct Seller's Experience, in an MLM Company assume 1% of people getting successful (Actual success rate is just 0.4%).
1% of these successful people will be happy, but the experience of 99% of unsuccessful people towards the company also matters. Because 1% will never get success without this 99% of people.
If 99% of people have paid a large amount to purchase products, not learned anything, and cheated by the upline to purchase overpriced products. Then undoubtedly, the experience of this 99% of the direct sellers will be extremely bad.
On the basis of Direct Seller's Experience, Amway is worst. Because a person has to purchase around 7000 Rs products and that products are highly overpriced.
Vestige and Modicare are far better compare to Amway in terms of the consumer experience. Because their products are less overpriced and secondly the threshold purchase amount to become a direct seller is much lesser.
Allegation Against Company
Allegation and cases reported against an MLM Company also matter, because it describes the environment of the company and its network.
In most MLM legal crises, direct sellers are sued and the company gets the safeguard. Because most time Direct Sellers uses the wrong practice to recruit new people and sell products.
But Amway's story is twisted. From a decade several warrants are released to arrest Amway India CEO till now. And recently Delhi High Court restrained Amway and few other MLM companies to sell their products online.
Companies like Glaze India, Safe Shop, eBiz and Naswiz also have got several allegations against their direct sellers for using the wrong method of hiring.
But the image of Vestige and Modicare is far clean compare to all other Indian MLM companies.
We don't have any numerical data records to explain this parameter. But, we can say that Vestige and Modicare both win on this parameter of comparison.
My Opinion
According to my personal opinion, Amway is still not suitable for the Indian Market. Because of their extremely overpriced products and the high threshold amount to become a Direct Seller.
Vestige and Modicare are tough contenders in the Indian MLM Company race. I will give both of them equal marks.
If you have also your personal opinion, you can share in the below comment box.
Conclusion
I hope you like our post on Vestige vs Modicare vs Amway. We tried to make it more informative and help you to choose the best MLM Company wisely.
Vestige, Modicare, and Amway all of them have a different unique quality and one is better to others in their own way.
But, before joining and giving them your time, money, and effort you have to do proper research. Understand your requirements and situation than take a step ahead, because it is all about your future and career.
And lastly, don't ignore the MLM Success rate found by Jon M. Taylor. Cause in a company out of 1000 only 3-4 people get success and these 0.4 % of people are at the top of the pyramid.
So, if you are a highly skilled marketing person and have large contact, then go to an MLM Company. Otherwise, there is several easy and better way to get rich in Life. I am not one who hates MLM, but this is the harsh reality which your loveable MLM Leader never tells you.