In the 21st century, Technology plays a vital role in the growth of businesses. In the case of direct selling as well, technology has a crucial function.
Websites and digital platforms of direct selling companies are considered under MLM Software.
MLM Softwares essentially has four components.
Admin Dashboard
Member Dashboard
Website/E-commerce Store
Franchise Module
MLM software is the base of any direct selling company and it makes tasks of companies much easier. Hence it is important to select the right software.
This is a post regarding Sankalp, which is a leading MLM Software provider in India and globally.
Ventaforce by Sankalp
Ventaforce is all in one MLM Solution presented by Sankalp.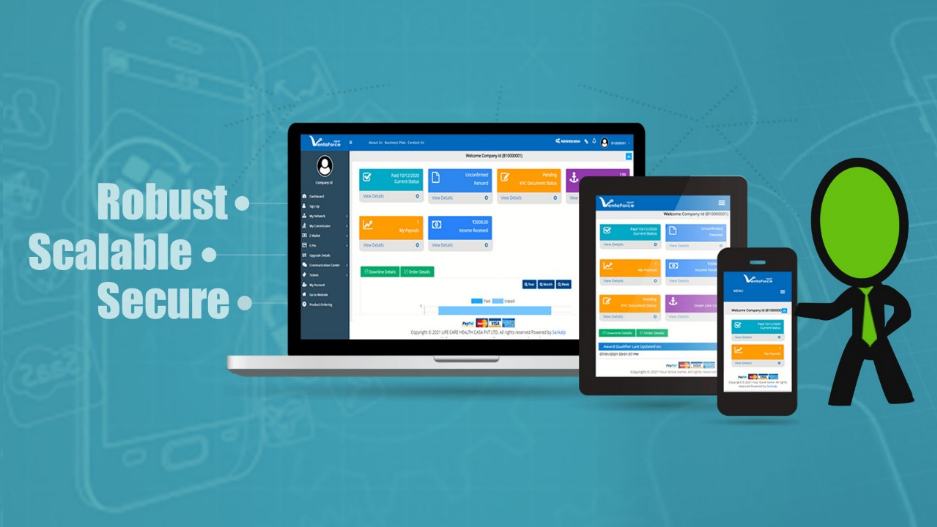 Sankalp is an IT firm from Pune, operating since 2001. Sankalp has numerous national and international clients and completed more than 4200+ projects in 45+ countries till now.
Ventaforce is one of the best grossing products of Sankalp. DNRS, RMCL, Dhanwantry, Renatus Wellness are just a few names powered by Ventaforce.
Ventaforce has several awards and is known for the quality services they offer.
If you are looking for MLM software, Ventaforce is highly recommended, as I personally examined this product.
Few screenshots of the project.
A to Z Solution for MLM Business
Operating a company takes lots of management and time. We know that MLM is a business of people and when millions of people become members of a company, management and administration tasks get tedious, hence it becomes necessary to have a robust platform, on which we can rely.
Every small feature to all large modules, you will find in Ventaforce with quality assurance.
You can check the 150+ features list on the official website of Ventaforce.
Some of the most charming features are here.
WhatsApp Integration
Multi-Currency
Multi Language
Multi-Vendor
Replicated Website
Tax Management
Ecommerce Enabled
Responsive Software & Website
Commission Management
Compatible With Any Plan
Business Analysis Report
Multiple Payment Mode Acceptance
Reports Can Be Exported To Various Formats
E-wallet Recharge & Using Of E-wallet For Purchase
KYC Document Confirmation
Robust & Flexible Architecture
Various Email & SMS Notifications
Payment Gateways
CMS Based Website
Security Management With Numerous In-build Security Features
Why Ventaforce?
If you are still confused, here I will share some solid reasons, Why Ventaforce?
Complete Package
From registering the domain to sending payouts, everything is done and managed by the Ventaforce platform which makes your business journey easy.
E-commerce store, admin dashboard, member interface, real-time tracking, auto payout and hundreds of other features are available which required to run a successful MLM company.
Ventaforce offers a complete package and you will not need to spend elsewhere for your digital platform.
Customization
If you are skeptical about technology and want to create something out of the box, Ventaforce will empower you for this as well.
They provide customization services, you can create your ideal business platform while working with the intelligent brains of Sankalp.
Including the below-mentioned compensation plans, Ventaforce can smoothly operate with 25+ MLM plans.
Accumulated Differential Plan
Binary Plan
Generation Plan
Matrix Compensation Plan
Stair Step Plan
Revolving Matrix Plan
Australian Binary Plan
Hybrid Compensation Plan
Customized Compensation
Party Plan
CMMI Maturity Level 3 Certified
Capability Maturity Model Integration (CMMI) is a process-level improvement training and appraisal program.
To receive CMMI Level 3 appraisal, Sankalp was assessed for its main product – Ventaforce, which is a best-in-class MLM software developed through best IT development practices and delivered on a robust framework of process implementation and ongoing innovation.
Most Recommended
According to top software discovery platforms such as Good firms, Capterra, SoftwareSuggest, G2, Sourceforge, Digital, GoodFirms, Woofresh, SourceForge.net, TrustRadius, etc.
These platforms consider Ventaforce as the best MLM software for multiple reasons. In the same vein, these reviews also helm Sankalp as the best MLM software development company.
Mobile App
The popularity and accessibility of smartphones have flooded the app marketplace with a plethora of mobile apps. Mobile apps are catering to every segment of the business.
So, why MLM's business would remain untouched?
Sankalp connects every member with the MLM company through attractive mobile apps and fully optimized websites build on the Ventaforce platform.
Excellent Support
Most of the clients have concerns about how is the after-sales support – Would I get the best customer support or not?
Sankalp promises to provide 24*7 support to the client. After purchasing the software, 6 months of free support will be there.
4.5+ star rating on all reviews & rating websites speaks a lot about it.
Ventaforce team will help you to understand the functionality of the platform and share the knowledge base to scale your business.
If you are a tech geek or belongs to a non-technical background, Ventaforce support will be there in all scenarios.
Competitive Pricing
Even after being a leading MLM Software provider, Ventaforce is available at affordable pricing.
While cost may vary according to the requirements. To know the pricing for your dream project, you can directly contact the executives of Sankalp at the below contact details.
Conclusion
If you thinking of starting an MLM company, Let the MLM software make your life hassle-free while you focus on expanding the business.
There is no other way you could fulfill your ambition of making it big with your network marketing startup unless you have a great business plan, a dedicated team, and a robust MLM software like Ventaforce, which has been a top choice of 4200+ companies across 45+ countries.
You can book your free demo directly by contacting Ventaforce Team on the above contact details.
Feel free to drop your thoughts in below comment box.