Work from home jobs on the go since the COVID pandemic but now companies have started working from the office.
Various social media platforms are filled with Natraj Pencil Packing Work From Home jobs and promising 30,000 Rs per month on paying 15,000 Rs advance on material delivery.
In this post, we will review the Natraj Pencil Packing Work From Home opportunity and understand whether it's real or fake?
What is Natraj Pencil?
Nataraj, the first brand of Hindustan Pencils launched with a brand philosophy of pencils for all.
Nataraj is an Indian brand of writing materials and stationery items under the manufacturer Hindustan Pencils Private Limited (HPPL). It aims to provide quality stationary items to all.
Established in 1958, they are the largest pencil manufacturer in India. Besides being a famous household name in India, their brands Nataraj & Apsara are exported to over 50 countries.
The seeds of Hindustan Pencils Ltd. were sown by three best friends – B. J. Sanghvi, Ramnath Mehra, and Mansookani.
Read: Ultrathings.in Review
Nataraj Pencil Packing Work From Home Scam
After hourly research and investigation about the Jobs posted on several social media platforms like Facebook, WhatsApp, YouTube and Instagram.
We visited Nataraj Pencils' official website Hindustanpencils.com to learn about the pencil packing jobs and found that the company itself denying and spreading awareness that packing jobs are fake and fraud.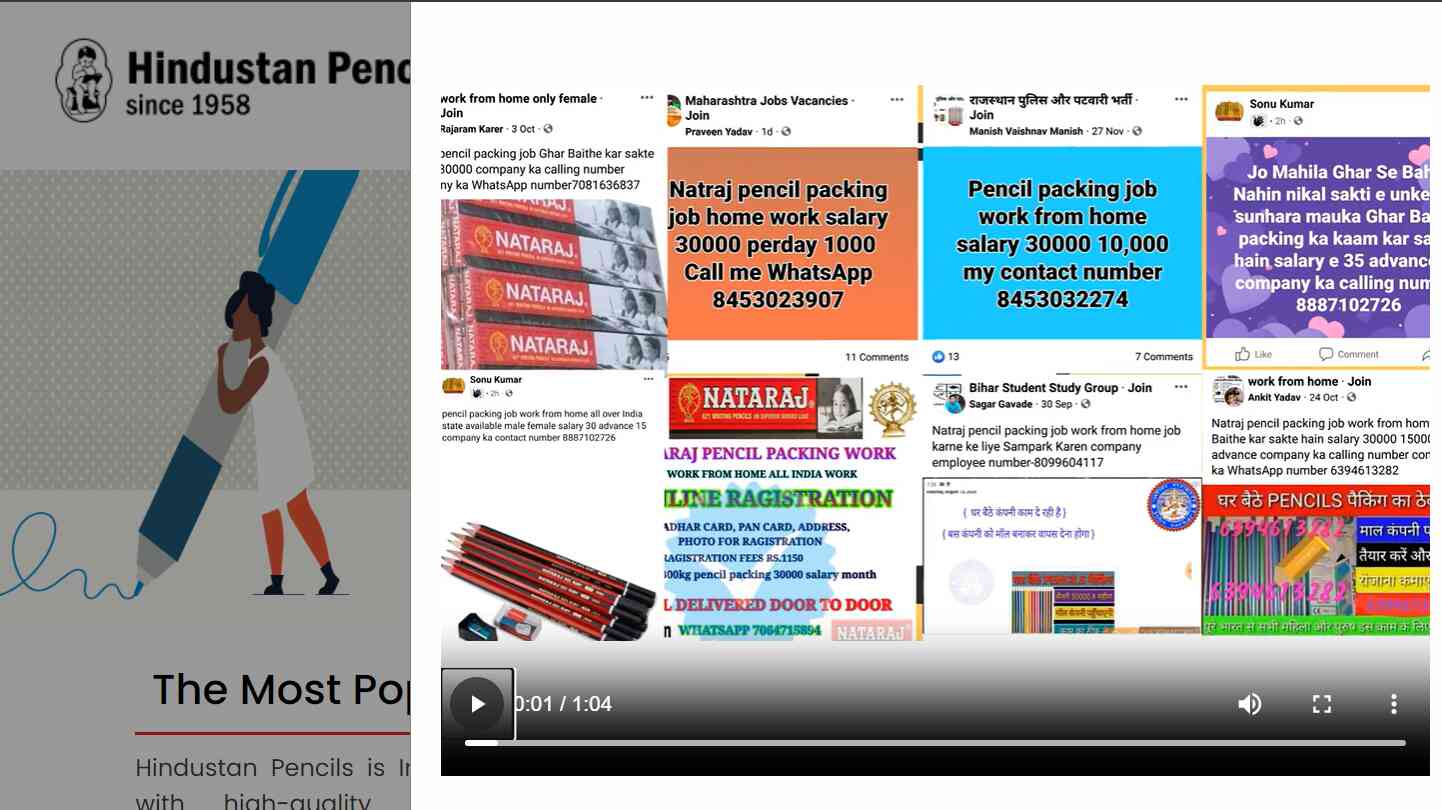 Scammers post job requirements on various socials and attractive descriptions include fake Nataraj company phone numbers, monthly advance salary, job location all over India, and Rs 550 for making a Job ID card and validation.
Scammers attract you by saying that they are delivering material worth 2 lakh to pack and you can pack all whenever you want in 2 weeks and your salary will be transferred to your bank account on the last date of every month.
According to Financialexpress.com Natraj itself has announced that they have taken legal action against fake job scams falsely attributed to its iconic brands Nataraj and Apsara because several job seekers fell victim to this scam and lost their money.
As per Hindustanpencils.com all pencil making and packaging process are done by machines and requires no human interventions.
So please don't get lured by these fake claims and report such social media posts and contacts to save others from it.
Read: SweezWorld.com Review