BitForex is a cryptocurrency exchange that emerged in the crypto scene in June 2018. Based in Singapore, it is an exchange that has rapidly gained both attention and controversy.
This BitForex review explores its services, user experiences, and highlights both positive and negative aspects.
What is Bitforex?
BitForex is a cryptocurrency exchange offering a range of services, including spot and perpetual futures contracts that support leverage of up to 100x.
It provides trading options such as token trading, margin trading, and derivatives.
The exchange boasts a presence in multiple countries, including Singapore, Korea, Japan, Hong Kong, and the Philippines. BitForex also offers a broad spectrum of cryptocurrency pairs.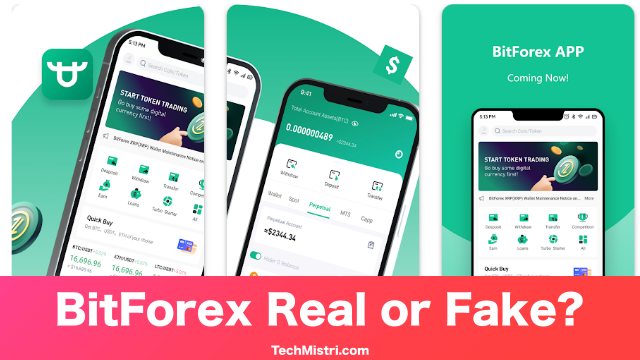 It has an app that is available for Android and iOS platforms. One can download its app from the Play Store or Apple Store.
The exchange has a token called BF, which can be earned through user activity on the platform.
BitForex also offers educational materials and guides for beginners. According to SimilarWeb, it has 5.9 million monthly visitors.
Read: TronLink Pro App Review
BitForex Review
Here are some green flags of BitForex that make it a reliable platform:
BitForex is known for having noticeably low trading and withdrawal fees,
BitForex places a strong emphasis on security.
BitForex provides a responsive mobile trading app for both iOS and Android users.
BitForex offers a wide range of cryptocurrency pairs with high liquidity.
The exchange has gained support from influential cryptocurrencies like Tron, QTUM, and Block VC.
BitForex offers various services, including token trading, margin trading, and derivatives.
BitForex provides a variety of cryptocurrency trading pairs, and offers competitive trading fees, advanced trading tools, and a user-friendly interface suitable for both beginners and professionals.
Despite its controversies, BitForex continues to operate with support from influential coins and notable investors. Users praise its mobile trading app for its responsiveness and compatibility with iOS and Android devices.
Read: Naaptol Lucky Draw Scam
FAQs
What cryptocurrency pairs are available on BitForex?
BitForex offers over 300 cryptocurrency pairs, including popular options like ETH/BTC, BSV/BTC, ETH/USDT, ZEC/ETH, EOS/BTC, LTC/USDT, and XLM/BTC.
How does BitForex handle trading fees?
The exchange charges withdrawal fees which is calculated using the Realized P/L (profit/loss) on a Maker & Taker structure, with a flat 0.01% fee applied to the spot market.
Is BitForex legal in India?
Yes, BitForex is legal in India.
Does BitForex have its own trading app?
Yes, BitForex has its own trading app available both for Android and iOS platforms.
Read: Hdfcbk.io Real or Fake?