This post is an unbiased review of an MLM company and investment opportunity named PLC Ultima.
PLC Ultima also known as PLCU has gained immense popularity in recent times. But there are various doubts and concerns regarding this platform.
One of our site visitors asked us to share insight about this platform, so we are here for an in-depth inspection of this company.
This PLC Ultima review will share details about the company profile, products and PLCU income plan. Lastly, we will answer the most frequent question about it, Is PLC Ultima Scam?
So let's get started.
What is PLC Ultima?
| | |
| --- | --- |
| Company Name | PLC Ultima |
| Founder | Alex Reinhardt |
| When Started | 2021 |
| Head Office | Georgia |
| Opportunity Type | Crypto-MLM |
| Products | Crypto Investment Plans |
| Website | Plcultima.com |
| Joining Cost | € 110 |
PLCU is operated through Plcultima.com and receives most visitors from Switzerland (23%), Germany (18%), Hungary (11%) and Portugal (8%).
PLC Ultima also focuses on Asian countries by releasing promotional videos in local languages.
PLC Ultima site footer shows its legal name as Digitech A LLC and the corporate address of Georgia. But we are not able to verify the incorporation as well as the address.
Morever, the PLCU Facebook page is managed by different admins from Georgia, Cyprus, Russia, UAE and India.
PLC Ultima is founded by Alex Reinhardt, let us know more about him.
Read: Keva Industries Review
Who is Alex Reinhardt?
Alex Reinhardt promotes himself as an international entrepreneur, venture capitalist, business coach and crypto technology expert.
Alex started his first crypto venture as Platin Coin in 2017. In 2018 PLC coin started growing and reached a peak in 2019. Later it collapsed and floats on the floor.
Hence, Alex started a new crypto platform named PLC Ultima and coin PLCU in 2022.
The founder Alex Reinhardt is highly active on social media and has 2 million followers on Instagram. But his audience engagement is extremely low compared to the following, maybe he purchased bots following as he also does PR content on various news sites.
Nevertheless, Alex is trying his best to show himself as a "crypto-genius" and "miracle man" of this century.
Read: Sonu Sharma Biography
Platin Ecosystem
There are different platforms under the Platin name and an ecosystem is built. They have 4 coins under a roof.
Platin Coin (PLC)
PLC Ultima (PLCU)
PLCUX
PLCU Classic
We have listed websites owned by PLC and their use case.
Platin-passport.com: Platin Passport to access and manage accounts for all other platforms.
Platincoin.com: Website for Platin Coin
Plcux.com: Website for PLCUX Coin
Plcultima.com: PLC Ultima to swap PLCU with PLCU Classic coin.
Ultimafarm.com: Ultima Farm to mint PLCU.
Platinworld.com: Platin World to manage investment and downline.
Plc-card.com: To manage PLC Cards.
Platinhero.com: A crowdfunding platform.
Platindeal.com: Platin Deal for online store.
Ultima-cashback.com: PLC Ultima for cashback.
Joining PLC Ultima
PLC Ultima platform can be accessed through Plcultima.com or a mobile application available for Android and IOS.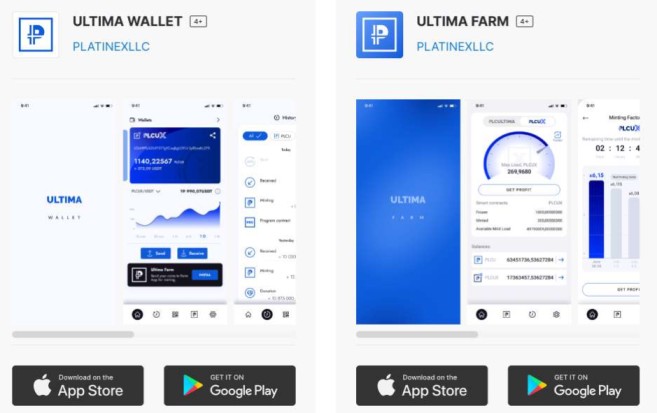 Also one can create an account using Platin-passport.com and access PLC Ultima.
After registration members have to make investments and recruit new members to make income from PLC Ultima.
Now we will discuss about PLCU investment scheme which falls under Ultima Farming.
Read: Altos Company Review
PLCU Investment Plan
PLCU operates some investment schemes as different packages.
1. PLCUX Minters + Cards
There are 5 packages under this scheme. Each package has Basic Minter and also an add-on of Standard Card with an extra limit.
The below table shows the investment and returns of each package.
Every investment made under these schemes freezes for 1 year and monthly returns are provided.
| | | | | | |
| --- | --- | --- | --- | --- | --- |
| Package Name | Activation Cost | Card Balance | Max Load | Minting Per Month | Expected Minting |
| Basic Minter | € 1100 | € 1100 | 0.01333333 PLCUX | 0.0066665 PLCUX | 0.079998 PLCUX |
| Medium Minter | € 5500 | € 1100 | 0.06666667 PLCUX | 0.0333335 PLCUX | 0.400002 PLCUX |
| Plus Minter | € 11000 | € 1100 | 0.13333333 PLCUX | 0.0666665 PLCUX | 0.799998 PLCUX |
| Pro Minter | € 27000 | € 1100 | 0.33333333 PLCUX | 0.1666665 PLCUX | 1.999998 PLCUX |
| Premium Minter | € 110000 | € 1100 | 1.33333333 PLCUX | 0.6666665 PLCUX | 7.999998 PLCUX |
| Ultra Minter | € 550000 | € 1100 | 6.66666667PLCUX | 3.3333335 PLCUX | 40.000002 PLCUX |
The returns amount varies with the price of the PLCU coin.
Max Load is the maximum minting amount allowed.
Minting Per Month is the total returns every month.
Expected Minting is total returns after 1 year.
2. Ultima X Minters
It is also the same as the above investment package, but it does not include the card add-on.
| | | | | |
| --- | --- | --- | --- | --- |
| Package Name | Activation Cost | Max Load | Minting Per Month | Expected Minting |
| LIGHT | € 110 | 0.00133333 PLCUX | 0.0006665 PLCUX | 0.007998 PLCUX |
| AIR | € 275 | 0.00333333 PLCUX | 0.0016665 PLCUX | 0.019998 PLCUX |
| STARTER | € 550 | 0.00666667 PLCUX | 0.0033335 PLCUX | 0.040002 PLCUX |
Read: Winfinith Review
MLM Compensation Plan
Other than this investment plan, PLCU also operates MLM plans which offer referral commissions on multiple downline levels.
1. Level Income
So whenever someone in the downline makes an investment in PLCU, so certain percentage of that is given as a bonus to the upline.
The below table shows the percentage upline gets from different downline levels on investment.
| | |
| --- | --- |
| Level | Commission Percent |
| 1 | 20% |
| 2 | 7% |
| 3-5 | 3% |
| 6-15 | 1% |
2. Rank Income
If a member's downline brings a certain amount of investment to the company, a Rank is allocated with a fixed reward.
For example, if your downline invests more than €25k to PLCU, your rank will be Sapphire, and PLCU coin of €500 is rewarded.
Remember maximum of 50% turnover can be calculated from one leg.
3. Diamond Infinity Bonus
On obtaining a higher rank, a fixed percentage of total downline investment is rewarded as this bonus.
| | |
| --- | --- |
| Rank | Diamond Infinity Bonus |
| Diamond | 15% |
| Blue Diamond | 16% |
| Green Diamond | 17% |
| Purple Diamond | 18% |
| Red Diamond | 19% |
| Black Diamond | 20% |
| Platin Diamond | 21% |
| Double Platin Diamond | 22% |
| Triple Platin Diamond | 23% |
Read: Negocia Global Review
PLCU Review
So hope the above explanation is useful to understand the basics of PLCU, its ecosystem, investment scheme and MLM program.
PLCU seems the perfect opportunity to earn massive returns on crypto investment and earn referral commissions as well.
But before you make any further move, there are various serious facts associated with PLCU and founder Alex Reinhardt.
So let us understand them.
Past Scam Records
PLC Ultima is not the first investment scheme offered by Alex Reinhardt.
Alex Reinhardt has remained the top promoter of SwissCoin. SwissCoin was a similar crypto-investment scheme launched in 2015. It was operated through Germany and declared Ponzi scheme which collapsed later and various investors lost their money.
Alex Reinhardt left SwissCoin with a huge profit and started his own crypto investment platform PlatinCoin. And from there Alex Reinhardt never stopped and rebooted various crypto investment schemes.
PlatinCoin to Ultima Farm
First of all, Alex's PlatinCoin was an absolute pump-and-dump shitcoin. He and other top promoters made various hollow promises with PlatinCoin and lured people to invest in their coin.
Later after reaching peak PlatinCoin disabled withdrawal and collapsed.
After PlatinCoin, PlatinWorld was launched with PLCU coin.
The same scenario of pump-and-dump held with the PLCU coin. Eventually, PlatinWorld collapsed and the fund was blocked in PLCU coin.
Alex again launched a new crypto coin named PLCUX. And now claimed that the PLC Ultima farming concept is based on the minting of PLCU and PLCUX.
All these combined blunders reveal Alex should not be trusted at any cost.
Read: Royal Q Review
Regulators Warning
At present, very few country governments and authorities are active against such Crypto scams. This encourages people like Alex to loot more people across the world.
A Mongolian authority has released a warning alert against PLCU and related entities.
While other countries and authorities are also expected to take action against it.
False Information
PLC Ultima is showing three different corporate names and addresses at different site footers.
All these incorporation details and addresses are fake to ensure investors' trust.
Moreover, they are promising guaranteed returns on minting but in nutshell, they are doing money circulation.
PLC Ultima is Ponzi Scheme
There is no doubt, PLC Ultima is a money-circulation scam. It is using cryptocurrency to attract investors', locking their funds and paying to early investors.
PLC Ultima is a cryptocurrency-based Ponzi scheme and Alex Reinhardt won't stop this scam until serious actions are taken against him.
He understands the weak governance of the crypto market and fools people.
Should I Join PLC Ultima?
No, PLC Ultima is a proven scam and can collapse anytime. Many investors are already complaining about the withdrawal issue and Alex has looted many investors in past.
So don't trust this quick rich scheme. Also share this post with those, who are stuck in this trap to see the reality.
Read: Bizgurukul Review