Till now I have written 100+ articles on Network Marketing AKA MLM or Direct Selling. From my first MLM post to today, my perspective towards MLM has completely changed.
Reading numbers of MLM Blog, Books and analyzing income plan made me a better MLM thoughtful person. Many people get failed in Network Marketing and few get success in Network Marketing.
Many people search for "tips to get success in Network Marketing?", "The secret of success in Network Marketing?", "Network Marketing Success stories?". But very few people actually know the Network Marketing Success Rate, which is extremely low.
Even a gambler has more chance to get richer compared to a Network Marketer.
Therefore a few questions arise, what is the difference between successful and failed people in MLM? and why Network Marketing Success Rate is low?
DSA and Most MLM Portals promote MLM/Network Marketing without showing proper statistics. Yes, most companies share their annual turnover.
But till now no MLM company dares to show the average income of their direct sellers.
Even reading books like The Business of the 21st Century by Robert Kiyosaki doesn't make any sense.
What is Network Marketing?
Network Marketing started in the decade 1920s. California Vitamin Company (Now Nutrilite) and California Perfume Company (Now Avon Products) are pioneers of MLM Industry.
In the year 1959 Amway (American Way) started and till now Amway is the leading company of this industry.
Before Network Marketing comes to market, Ponzi and Pyramid Scheme was in trend.
When Ponzi and Pyramid Scheme got banned, then many MLM Companies were also at risk.
In 1975, Amway vs FTC case started. (Federal Trade Commission is US government business regulatory body).
Till 1979 case run and Amway wins. Amway declares as a legal pyramid scheme which also known as products based pyramid scheme.
In 1986, FTC fined Amway 100,000 USD for violating the 1979 ruling.
Since so far, a new term Products Based Pyramid Scheme is described to denote Network Marketing, which is different from illegal Pyramid Schemes.
Network Marketing Success Rate
As I have said earlier, Direct Selling Association (DSA) and Most of MLM Portals, MLM Leaders, MLM Blogs and even MLM related Books always favor MLM.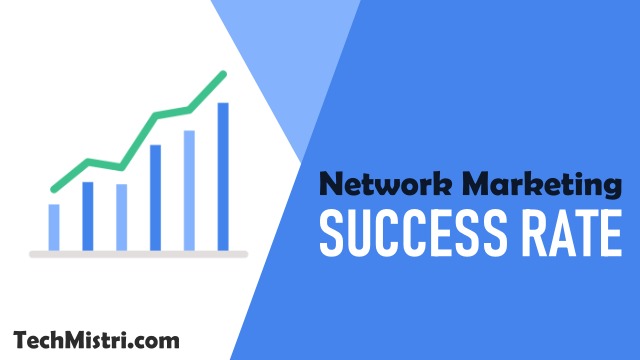 Statistics are widely used in most businesses. Statistics are vital to understand growth and predict the future. But most MLM favoring authority never use statistics.
The book "The Business of the 21st Century" not have even a single data which makes me believe that MLM is actually business of the 21st century.
Most surprisingly, the person who has written this book is never a part of any MLM Company.
The Case (for and) against Multi-level Marketing
The Case (for and) against Multi-level Marketing is a book written by Jon M Taylor (MBA, Ph.D.).
Jon M Taylor joined the network marketing industry around 1994 and he was one of the top 1% earners of that company.
But being after one of the top 1% earners, Jon was losing 1200$ monthly. Jon was investing his own money in a campaign, to recruit new people in the downline.
Jon's campaign was successful, but he never earned the amount about which he was promised.
Why Jon M Taylor's Research
Many of you wondering why I am considering Jon M Taylor's Research?
When Jon was confused about does only his MLM company pay so less? he started his research.
And found that the situation was the same in all companies around him. He was shocked and he continued his research.
After Investigating 350 MLM Companies for 15 years, he published his book in PDF over the internet.
Jon M Taylor's book got an identity when FTC promoted his book on their official site.
Jon also challenges the president of 60 most prominent MLM Companies to prove him wrong, but the challenge remains unmet because of most of the president never dare to reply Jon.
99.96% of people get failed in Network Marketing
Jon M Taylor proved that 99.96% of people in network marketing lose their money in buying overpriced products.
Remain, 0.04% of successful people in MLM are at the top of the pyramid. In 0.04% most of the people were joined the company in the initial days of the company. Therefore the chance of success of an average person gets very less.
Jon compares the success rates of Network Marketing to other income sources. Even Illegal Pyramid Schemes have better success rates than legal Products Based-pyramid schemes called Network Marketing.
| | |
| --- | --- |
| Income Source | Success Rate |
| Wage Jobs | 100% |
| Legitimate Direct Selling | 80% |
| Small Business | 39% |
| Illegal Pyramid Schemes | 10% |
| Gambling | 2.9% |
| MLM/Network Marketing | 0.4% |
Jon M Taylor has used words like Incentivized Purchases, TOPPs (Top of a Pyramid of Participants), StockPiling, Top-Weighted Schemes, Sympathy Buyers to explain the dark reality of Network Marketing.
Personally, I recommend everyone to read Jon M Taylor's research who directly and indirectly related to MLM. You can download Jon M Taylor Book PDF by clicking on the just below button.
Who gets Success in Network Marketing?
Network Marketing has a very low success rate, but still very few people get success in Network Marketing.
In Jon M Taylor's word, there are 0.04% of people who get success in Network Marketing. Then
Who is among that 0.04% of people?
Generally, they are the people who are at the top of pyramid schemes. Most of them were joined the plan in the initial days of the company.
Network Marketing gives good earning to only those people, who have large downlines. And peoples who are masters in recruiting new peoples have more chance to get success. But recruiting only active people to the network is the principle of success.
0.04% include people like Sonu Sharma. Sonu Sharma is a popular Network Marketer of Indian MLM Company Naswiz. He is a successful network marketer, because of his skills of presenting himself in front of thousands of peoples and storytelling.
Just search his name on youtube, he got millions of followers, by just motivating people for MLM and sharing fictional MLM story.
Why Network Marketing?
Books like "The Business of the 21st century" gives many reasons to do Network Marketing.
Yes, these books don't have proper stats, which makes intellectual peoples like me believe in them.
But qualitative promotions in these books are not false.
When a person gets engaged in a Network Marketing learns various things, like
Building Communication Skills
Leadership Quality
People Skills
Dreaming Big
Time Management Skills
Life Skills
And failing some times makes a better person. Even India's most popular motivational speaker Sandeep Maheshwari is an ex-network marketer.
But at last its all about career. Spending money and precious time in an Industry with such a low success rate may affect someone's life adversely.
Why not Network Marketing?
Network Marketing Success Rate driven by Jon M Taylor is enough to say no to Network Marketing.
When any person joins any MLM company, first of all, he/she force their family and friends to join in the downline or to purchase their overpriced products.
The Sympathy Buyers terms used by Jon M Taylor which means, those family members and friends who buy MLM company products when their loved one's forces them.
Apart from learning a few skills, in most cases, we waste the time and money of those innocent people also, who never know N of Network Marketing, for our personal profit.
And everyone is not an entrepreneur like you, who is also willing to become one among 0.04% people in any MLM company.
Moreover, there are lots of new skills and works to become a better person in life.
If someone has any passion or interest in any field, then following the passion is the best option. Because the person may earn less money but will be happy about work.
And last, if a person only wants to become rich in life, then doing own business or becoming an investor are the only two choices left.
MLM Myths & Facts
There are various MLM Myths in which we also believe, but they are created only to show MLM superior.
MLM industry produced the highest number of the millionaire in the USA. The most popular MLM Myth I listen, when I visit any MLM Company Seminar.
Real estate and Financial Service generates the highest number of Millionaire in the USA and most countries.
Network Marketing is the easiest way to become rich. then its success rate should be not 0.04%, which is even lower than the illegal pyramid schemes.
MLM is the fastest growing industry. Most MLM leaders use this phrase to promote their business. But indeed fields related to technology are growing much faster than MLM.
For me, Affiliate Marketing and Digital Marketing are far better and convenient compared to Network Marketing.
Affiliate and Digital marketing are the future, because unlike network marketing, here a person doesn't need to purchase overpriced products to promote products and services.
Conclusion
I hope this post on Network Marketing Success Rate is beneficial for you. Many of you who are new to the MLM industry and working with faith to get success, got hurt.
Maybe you not like this post, but I recommend everyone to read Jon M Taylor's book especially chapter 7, to understand what's wrong with MLM Industry.
Thank You!!