This post is on one of the top Indian MLM Leader, Mohit Sardana. (Author, Networker, ex-eBizer, Co-founder of Sarso Biznet, Youth Icon, and an Entrepreneur)
Mohit Sardana is a shining name in Indian MLM Industry. He was a top eBiz promoter and later due to some controversy he left eBiz and started his own MLM company Sarso Biznet with AP Singh Sodhi.
So let's discuss about Mohit Sardana's life. This post contains Mohit Sardana Biography, Controversy, Income, Car, Age, eBiz to Sarso Biznet story, etc.
Mohit Sardana Biography
From being a top MLM Leader in an MLM company to start a new MLM company, it is never an easy decision and task.
But Mohit Sardana took that decision and accomplish his goal in a few years. He is now a company founder, author, networker, youth icon, & spiritual person.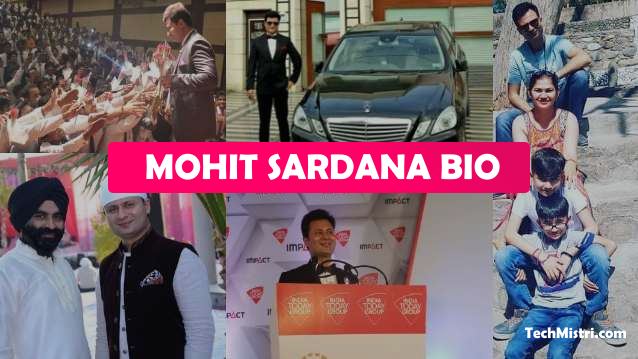 We will start from his early life.
Mohit Sardana Early Life
Mohit Sardana was born in Karnal, Haryana. He belongs to a very well settled family.
His father was a businessman and he belongs to a business-background family.
After schooling, he started doing B. Tech from the average institute. He was not interested in studies, but he manages to score good marks.
During the end time of his college life, Mohit Sardana has two options.
The first was to join his dad's settled business and second was to do the job he got in college placement.
But there is something else was in his mind.
Beginning of MLM Career
Mohit Sardana wants to build his own identity. So he refuses his father's business and Job.
He always has the ambition to become an entrepreneur.
Around 2002-03 he found about MLM, and the Company he joined was eBiz Pvt. Ltd.
In the beginning, his family opposes him to do so. But he was tough on his decision and started doing MLM.
Till 2005, he becomes one of the top promoters in eBiz.
And there was a time he was the highest-paid direct seller in eBiz.
Controversy with eBiz
Around 2007-08, everything was working great.
But later, the product/service "Computer Courses" which eBiz was giving for the 10,000 Rs was freely available on the Internet.
Mohit Sardana found that the customer was not getting the value product for which they paid.
So the controversy with eBiz remains for 2-3 years. And later he decides to leave eBiz.
He was not alone, another eBiz top promoter Amritpal Singh Sodhi was with him.
Mohit Sardana left the eBiz when his income was in lacs every month from eBiz.
Clash with Pawan Malhan (Rumours)
Rumors says that Being top promoters Mohit Sardana and AP Singh asked Pawan Malhan for shares of the company.
Pawan Malhan was autocratic and said no to them. Then the clash between them started and in the end, Sardana and Singh have to left the eBiz.
And on the other side, downline says that Sardana and Singh were requesting Pawan Malhan to add new products to the company, to provide value to the customer.
But it will lead to a decrease in the profit of the company, hence Pawan Malhan disapproves the request.
We are not sure, which story is true, but yes Pawan Malhan was autocratic and he was involved in an MLM fraud. And Pawan Malhan has Canadian citizenship.
Sarso Biznet Formation
Considering the product value for the customer, Mohit Sardana with AP Singh Sodhi started their own MLM Company Sarso Biznet in 2011.
Company registered on 25, April 2011 in Chandigarh. SarsoBiz is one among the list of legal direct selling companies in India.
Sarso Biznet is also FDSA founder member company.
Now as far, Sarso Biznet is not successful as Vestige, Modicare, Mi Lifestyle and other big names you know.
Mohit Sardana: As an Author
As an author, Mohit Sardana has published a book in 2006 named Wagon to Riches Network Marketing.
The book is on network marketing and entrepreneurship. His two other books are also available on Amazon named Objective Mathematics 1 & Objective Mathematics 2.
Mohit Sardana on Spirituality
Mohit Sardana is a very spiritual person. His father and grandfather have devoted their life to spirituality.
Mohit Sardana follows sadhguru and various other spiritual gurus.
In an interview he says, ambitious is important, but when you follow spirituality you become super-ambitious.
He talks about inner happiness which is better and consistent than our achievements.
Mohit Sardana Achievements
Being a top leader in MLM Industry, he has also won various awards.
Below are the few names of the award, for which Mohit Sardana and Sarso Biznet nominated.
Jyoti Award 2012
eEducation Services of the Year
Shining Image of India Award
ET NOW – IndiaMART "Leaders of Tomorrow Awards 2011
Lessons from Mohit Sardana
There are various lessons which we can take from Mohit Sardana.
But most important is, he left his top position and lacs of rupees because his customer was not getting the reasonable products of their money.
So this lesson, every direct seller and networker should take. Before your earning, the satisfaction of your customer matters. So please choose your MLM company wisely and only join reasonable products based MLM company.
Another thing is about spirituality. The happiness on achievements of goal is temporary, but only inner happiness remains constant.
I hope this post on "Mohit Sardana Wiki, Income, Car, MLM Company (eBiz to Sarso)" is informative for you. If you have any queries or suggestions, feel free to comment below.
Read: