Vestige Marketing Private Limited is one of the biggest MLM companies in India. Vestige started in the year 2004 and is also one of the fastest-growing MLM companies in India.
There are around 250 products in Vestige Products List and the list is still growing. Meanwhile, Vestige has also produced the highest number of MLM Leaders in India.
And recently most popular Indian MLM Leader Sonu Sharma moved to Vestige and left his first MLM company Naswiz Retails.
All Vestige Directors & their Income
In this post, we will see the Top Vestige Direct Leaders list. Vestige gives ranking to distributors according to their performance.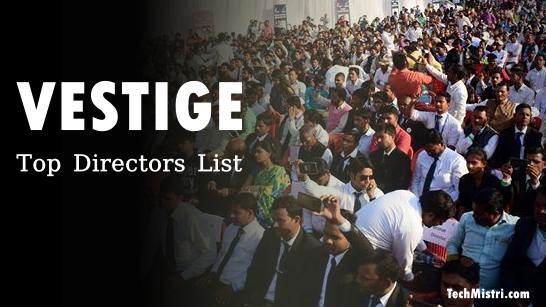 Vestige distributor rank grows in the below sequence.
Bronze Director
Silver Director
Gold Director
Star Director
Diamond Director
Crown Director
Double Crown Director
Universal Crown Director
Double Universal Crown Director
Ambassadors
The below table shows the approximate monthly income of respective distributor ranks.
| | |
| --- | --- |
| Rank | Monthly Income |
| Double Universal Crown Directors | 4-5 Lakh |
| Double Crown Directors | 1-2 Lakh |
| Universal Crown Directors | Around 1 Lakh |
| Diamond & Crown Directors | 45-70 Thousands |
Distributors' earnings highly dependent on personal and downline sales, hence above data is just assumptions in most cases.
You can read the interview I took with Vestige Double Universal Crown Director Sarita Raj by visiting the below link.
Vestige Founders
Vestige was started by three serial entrepreneurs and they are also registered directors of the company.
Gautam Bali, Managing Director of Vestige is the backbone of the company. He is also a great motivational speaker.
Vestige Ambassadors List
Vestige has not specified any performance numbers in its business plan to become a Vestige Ambassador. But most popular leaders with the highest followers are on Vestige Ambassadors List, like S.P. Bharill & Sidharth Sharma.
ARPANAA DEB & DEVDEEP DEB
ASHOK GHOSH
BIJAY KUMAR MISHRA
DIPAALI PATRAWALA & NILESH PATRAWALA
GURSHARAN SINGH
Harish Arora
JATINDRA NAYAK
KAUSHIK GOSWAMI
KUMAR KULVIJAY & SHWETA KUMAR
Pawan Malik
R.S RAJAN
RAMESH PUNHANI
S P & SANDHYA BHARILL
SAJEEV NAIR
SIDHARTH SINGH & CHANCHAL SINGH.
VICKY & JYOTI JAISWAL
Vestige Double Universal Crown Directors List
To become a Double Universal Crown Director in Vestige, the main criteria is to get 16 qualified directors in different legs. Here is the list of Double Universal Crown Directors.
ANAND GUPTA
ANOOP GUPTA
ASHOK KUMAR r YADAV
BABLU PATTANAYAK
Bhup Malik
CHAMPIONS ENTERPRISES
DEBASIS PRADHAN.
EUREKA INDIMARK
GROW RICH ASSOCIATES
GULABSINH KISHORSINH JADEJA
GURPREET SINGH SAINI
HARISH KUMAR RAHEJA
HARSHAL JAISHANKAR TRIVEDI
HAW CONSULTANCY
ISHWARBHAI RATANSHIB PATEL
JITENDRA KUMAR GUPTA.
K.SRINIVASAN
KALPESH GHANSHYAMBHA RATHOD
KAMINI JITENDRAKUMAR LADHANI
KRISHNA & SONS
KRISHNASAMY V
LEENA KRISHI KHANDELWAL
MAHESH DEGALA
MANJU GUPTA
MANJUNATHA J
MOHIB SIDDIQUI
NEELIMA AMBIST
PRADEEP KUMAR UPADHYAY
PRAMOD KUMAR
PURNA CHANDRA ROUTRAY
PUSHPLATA
RAHMAT ULLAH
RAHUL MAKRANI.
RAJEEV SAXENA
RASIKA PRAVIN KULKARNI
SABNAM GULSON ARA BEGUM
SACHIN SHARMA
SAGAR SUNIL BHAMBRI
SAJANBEN KALAL
SAMINA BEGUM
SANJAY KUMAR
SARITA RAJ GADDAMWAR
SAROJ KUMAR PANIGRAHI
Suresh Shrivastava
SUSANTA MOHANTY
SUSHANTA DAS
SWARNA BHOOMI BUSIN
TAJENDRA PAL RANA
TEMPA RINJI SHERPA
UMESH BHARDWAJ
VIKAS BHANOT
VIVEK JAIN
VIVEK KUMAR SAXENA
Vestige Double Crown Directors List
Vestige Double Crown Director is next top designation in Vestige. To achieve the Double Crown Directors qualification, distributors need to get 12 qualified directors in different legs.
AAKANKSHA ATUL VANVE
AJAY KUMAR CHADHA
AJIT SINGH
AMIT KUMAR
ANJANI KUMAR
ASHOK KUMAR
BELA DEBBARMA
BHULESHWAR YADAV
CHIRAG MANUBHAI PANDYA
DALJEET SINGH SAN
DATTATRAY KOLEKAR
DEB KUMAR MONDAL
DEBASISH GHOSH
DHAREMENDRA MAAN
DIBYAJYOTI NAYAK
DILIP KUMAR SINGH
DIWAKAR DEO MISHRA
DWIJENDRA NATH MANDAL
DYNAMIC INDIA INFONET (P) LTD.
GAYATRI DEVI
GOURANGA CHANDRA DAS
HERPRASAD SAHU
HETAL BHOI
INDRANI PATHAK
INDRANI TYAGI
JOSHUA LALCHHANHIMA
JYOTSANABEN HASMUKHBHAI PATEL
K JYOTHISH KUMARAN NAI
K NAGENDRA RAO
KARUNA KUMARI
KASHI NATH PANDEY
LATA GOEL
LAXMAN LAL PATEL
LOKESH SETHI
M V BHARATHAN
M VICTORIA SELVI
MADAN GOPAL RAI
MALTI SINGH
MANAS KUMAR BISWAL
MANIRUDDIN KHAN
MANJU SINGH
MANOJ KUMAR
MASIHULLA ALAM
MAYUR JIYALAL CHAUDHARY
MAYURA BAZAL
MOTI PRASAD
NARAYAN PRASAD JENA
NEENA P DESAI
NEERU GIRI
NEETU PRASHANT NAREKAR
P.K SHARMA
PADMA GURUNG
PAWAN JATOR
POONAM SHARMA
PRABIR ROY
PRAFULL KUMAR PANDA
PRANJALI LAXMAN NALAWADE
PRATAP CHANDRA SUNDARAY
PRATIBHA A BHATNAGAR
PREMRAJ SHYAMLAL JAISWAL
PRITAM SINGH RAWAT
PURUSHOTTAM KUMAR
R. BALASUBRAMANI
RAJ KUMAR AGARWAL
RAJ MOHAMMED
RAJENDRA S JITKAR
RAM BABU GUPTA
RAMESH NARAYAN RAI
RAMLAL SOLANKI
RAVINDRA v SHINDE
RIZWAN KHAN
RUMA RAJESH SHAH
RUPA JYOTI DAS
SHANKAR M
SHINGARA SINGH
SHIVRAJ SINGH
SUBHASH
SUKHDEV SINGH
TANU GARG
VIJAYA RAJU BATTULA
VIKRAM MALVIYA
WARISALI ANSARI
Vestige Universal Crown Directors List
To become a universal crown director, direct sellers have to put 8 qualified directors in their different legs.
Here is the name of all Vestige Universal Crown Directors.
A G Sai Kanna
A K R VAIYDHYANATHAN
A R MOHAMED FAROOQ
ABDHESH KUMAR NIRALA
ABDUL GAFFAR SIDDIQUI
ABDUL SHABBIR K
ABHISHEK CHAUHAN
ABHISHEK DUA
ABOOTALIB
ADITEE DESAI
AJAY GUPTA
AJAY KATIYAR
AJAY KUMAR JHA
AJAY SINGH CHANDEL
AJIT SINGH RAJPUT
AKANKSHA SHIVANAN PAGUI
AKHLESH KUMAR
AKRAM KHAN MANSURI
AKSHAT VERMA
ALTAF HUSSAIN
AMIT KUMAR SAHA
AMIT KUMAR YADAV
AMSAVENI M
ANAND
ANAND PRAKASH
ANGSHU MAN SARKAR
ANIL KR. SRIVASTAVA
ANIL KUMAR KASHYAP
ANIL KUMAR VERMA
ANITA RAVINDRA PATIL
ANITA SHARMA
ANJU KUMARI
ANJU SHARMA
ANKUR PANDEY
ANOOP SAXENA
ANSHU KHANNA
ARATI MUDULI
ARBINGSTONE D MARAK
ARDHENDU SARKAR
ARIJIT MAITY
ARPITA BHOWMIK
ARUN KUMAR RANA
ARVIND KUMAR KUSHWAHA
Arvind Pandey
ARVINDERJIT KAUR
ASAD MONIS SIDDIQUI
ASHA
ASHA SINGH
ASHOK KUMAR
ASHOK KUMAR JENA
ASHOK KUMAR SAHU
ATHNAS TOPPO
ATULKUMAR KARSHANLAL PATEL
AWADHESH KUMAR
BALA NAGA MANI DANDU
BALJIT KUMAR SINGH
BALKRISHNA APPA DHOKALE
BEAUTY RANI DAS
BHABAGRAHI MAJHI
BHAGAT SINGH
BHAGWAN SINGH SHEORAN
BHAIYALAL VISHWKARMA
BHAKTA BRATA MUDULI
BHARTI CHANDRAKANT KAPSE
BHAWANA DINESH JOSHI
BHOOPESH KUMAR DAHIRE
BHUMI RAJ PADHAYA
BHUPENDRA VORA
BIDHAN CHANDRA MONDAL
BIJUMARTIN FERNANDEZ
BIKASH CHANDRA GUCHHAIT
BIKKI KUMAR
BIRENDRA SHAH
BISHNU BORA
BISWAJIT DAS
BISWANATH CHAKRABORTY
BRIJESH KUMAR PAL
C VENKATA RAMA RAJU
CHAITALI GHOSH
CHANDRA KANTA
CHANDRA SEKHAR MUTYALA
CHANDRAKALA NAROTTAMDAS GUPTA
CHITRA LEKHA TARAM.
D VARAHALA REDDY
DAL CHAND RAJPUT AND SONS(HUF)
DALJIT KAUR SAINI
DAMYANTI SHANTILAL GALA
DASHRATHJI AMRAT THAKOR
DEBASISH PANDA
DEEPAK VERMA
DEEPESH GUPTA
DELHI ASSOCIATES
DEVENDER SINGH CHOUHAN
DEVRAJ SAHU
DHANANJAY KUMAR VERMA
DHARAM DEV SINGH
DHARMENDRA DAS
DHARMENDRA KUMAR
DHARMENDRA SINGH
DILIP DWIVEDI
DIPAK LAL CHOWHAN
DIPAKBHAI DAHYABHAI PATEL
DIVAKER UNIYAL
DR. S.B. CHANDESHWAR
DUSHYANT KUMAR
EKTA SEHDEV
FAYZAL HOQUE
GALI RAMANAIDU MOHANRAO
GAURAV MEHTA
GEORGE BERNARD
GLOBAL SUCCESS TRAINING PVT
GOPI KISHAN KASHYAP
GOUTAM DAS
GUNJAN RANCHHODBHAI PATEL
GURCHARAN SINGH
GURMEET KAUR
GURMEET SINGH
GURMEET SINGH
HARSHA BAJAJ
HARSHABEN K PATEL
HEENA MISTRY
HETAL CHAMANBHAI KORI
HINDURAO KISAN MARATHE
JAGJEET SINGH
JAIDEEP BANIK
JAIVEER SINGH NEGI
JASABANTA NAYAK
JASHMER SINGH
JASWANT SINGH
JAY PRAKASH RAY
JAYANTA KUMAR ROY
JAYEETA PAL
JAYSHREE SANGRAMAPP SHERE
JIBLAL KUMAR DANGI
JITENDRA KUMAR B. PATEL
JIYAUL HOQUE CHOUDHURY
JOLLY SURI
JULFIKAR ALI KHAN
JYOTHI H A
JYOTI RANI
K Yoganand
KAJAL KIRAN MISHRA
KAKALI SARKER
KALAPALA RAJESH
KALLOORI SWAROCHITHA RED
KAMALESHA K N
KAMLESH KUMAR SINHA
KANCHAN MALA
KANTILAL VERSHI BHOIYA
KARAN SINGH
KATHI BABU
KESHAV KUMAR SINGH
KESHWA NAND SHARMA
KEWAL SINGH
KHAGESWAR SAHOO
KIRAN CHETTRI
KIRAN GUPTA
KIRIT KUMAR HARGHOVANDAS
KIRTI SHARMA
KISHAN SINGH SOLANKI
KISHOR LAKRA
KORADA RAJYALAKSHMI
Krishan Kumar Sharma
KRISHNA STORE
KUL BHUSHAN SHUKLA
KULDEEP CHAND
KULDEEP SINGH
KUMUDA CHANDRA SAHOO
KUSHAL A SHARMA
KUSUMBEN JITENDRAKUM JADAV
L RITESH MEITEI
LAKSHMI GURAVAIAH MIDDE
LALSANGPUII
LALZUILIANI
LATIKA PRAMOD PADWAL
LAXMIPRIYA PRADHAN
LEELA NAIR
M A VENKITESAN
M RAJKUMAR
M SRINIVASA
M.D TOHID ANSARI
M.GURUBARAN
MADANLAL DEWANGAN
MAHENDRA PRASAD MAURYA
MAHENDRA VYANKATR SHINDE
MAHESH SURESH SHINDE
MAHESHKUMAR D RATHOD
MAHMOOD ALAM
MALA CHAKRABORTY
MAMTA MAHATO
MAMTA RAJESH LADDHA
MANAS BHATTACHARJEE
MANJUNATHA G K
MANOJ KUMAR JOSHI
MANOJ KUMAR SHARMA
MANOJ KUMAR SINGH
MANOJ KUMAR YADAV
MAYA MEGHWANI
MAYA SHARMA
MD BABLUR RAHMAN
MD MISTER ANSARI
MD. MOIN
MEENAKSHI SHARMA
MEENU PRAKASH
MINATI DAS
MOHAMMAD SADIK HUSAIN
MOHAMMAD SALMAN
MOHIT BAJAJ
MOHSIN AZIZ SHAIKH
MONIKA NIRANKARI
MORIBEN MANHARBHA PARMAR
MOTI LAL MOURYA
MOUMITA TALUKDER DAS
MOUSMI GUPTA
MUKESH VERMA
N MUNIKUMARI
N R RAVI KUMAR
NABIN KUMAR BANIA
NAGESWARA RAO GUDIDA
NAINA GUPTA
NANI GOPAL PAUL
NAOSHEKPAM SUNINDRO SINGH
NARENDRA KUMAR JANGHEL
NARESH KUMAR ONKARDASJI RATHI
NARESH KUSHWAHA
NAVATA SURESH GOURKAR
NEELA RATHA
NEELAM DEVI
NEELAM KUMAR
NEETA JAISWAL
NEHA BISWAL.
NEHA DUSHYANT DALAL
NIBEDITA BEHERA
NICK CHANDORA
NILA ONKAR BHOGE
NILIMA SADANAND KHATRI
NIRMALA G
NIRVANA LATA ENTERPRISE
NISHCHAY TOMAR
NOEL GEORGE
NP EESWARUDU PRATHIPATI
NURUL ISLAM
OM PRAKASH YADAV
P MOHANDOSS\
P SATHEESHKUMAR
P V BHASKARAN
P. RAJA
P. S. KRISHNA KUMAR
PANJAGALLA NARASIMHULU
PANKAJ KUMAR JHA
PANKAJ KUMAR VERMA
PANKAJ S SHUKLA
PANKAJ SHARMA
PARASNATH LALMAN VARMA
PARESH GHANSHYAMBHAI
PARUL HIREN DADAWALA
PATEL MANISH PRAFFULBHAI
PAWAN KUMAR
PAWAN KUMAR
PEETANI SUDHAKARA RAO
PINAKI NATH BHATTACHARYA
PINKY MEHRA
POHAP SINGH
POOJA JIGNESH KHENGAR
POONAM SUNIL PARATE
POORAN CHANDRA DABRAL
POSA SAVITHA
PRADEEP KU SENAPATI
PRADIP KR. SINGHA
PRADIP KUMAR DARJEE
PRAHLAD SINGH RAO
PRAMOD KAR
PRAMOD KUMAR UTTAM
PRASHANT KUMAR JHA
PRASHANT KUMAR SINGH
PRATAP KUMAR DASH
PREMA MANJARI MAHANTA
PRITI KUMARI
PUNAM TYAGI
PURABI DEKA
PURNIMA PRJAPATI
R LALRAMPARI
R MARY SELVARASI RUBAN
RABINDRA PRASAD GUPTA
RABINDRA SHARMA
RADHA KRISHNA VASAM
RAGHUNATH RAMCHANDRA LANDE
RAJ KISHORE RANJAN
RAJ KUMAR BAG
RAJ KUMAR GUPTA
RAJ KUMAR SHARMA
RAJEEV VISHWAKARMA
RAJENDRA KUMAR DIXIT
RAJIV SHARMA
RAJKUMARI
RAJNI SAXENA
RAJNI VISHNU SHINDE
RAJU GUPTA
RAJU SARMA
RAJVEER VISHNOI HUF
RAJWINDER SINGH
RAKESH AGGARWAL
RAKESH PAREEK
RAM PRAKASH SHARMA
RAM PRATAP MOURYA
RAMESH CHANDRA PALIWAL
RAMESHWAR BHAKTA
RAMKRISHNA JAISWAL
RAMU GORINTLA
RANJITH KUMAR S
RASHI PAHWA
RATANSHIBHAI KANJ JOSHI
RATIKA GULERIA
RATINDER SINGH
RAVI GUPTA
RAVI KUMAR G
RAVINDRA KUMAR
RAVINDRA KUMAR
REETA MOHANTY
REHAN KHAN
RENJITH MOHAN
REVABEN DALPATBHA PATEL
ROSHY MATHUR
S M ESHWARAPPA
S MICHAEL
S RAJASEKAR
S. RUKMANI
S. VIJAYA
SABITA CHETTRI
SADHANA VINCHURE
SADHNA TYAGI
SAFDAR ALI MIR
SAJID QURESHI
SAKSHI PANDEY
SAMRIDDHI GROUP
SANDEEP KUMAR
SANDEEP KUMAR GUPTA
SANDEEP M. JOSHI
SANDEEP NARAYAN DESHPANDE
SANDEEP SUDAM SHINDE
SANGITA PATIL
SANJAY KUMAR KESARWANI
SANJAYA KUMAR SWAIN
SANJEEB KU BEHERA
SANJEEV KUMAR
SANJEEV KUMAR SINGH
SANJIB TALUKDAR
SANTOSH KUMAR
SANTOSH KUMAR
SANTOSH KUMAR MISHRA
SANTOSH PANDITRAO BORKAR
SANTOSH SINGH
SARAT KUMAR RANA
SASMITA NAYAK
SATHYAN CHEMBRA
SATINDER KAUR
SATNAM SINGH
SATPAL ADHANA
SAYANTAN PAUL
SHAILENDRA KUMAR
SHAILESHBHAI MANG MAKWAN
SHAPAM KUMARJIT SINGH
SHEELA KULKARNI
SHEIKH MAHFOOZ
SHIVAM GOSWAMI
SHOBHA
SHRIDEVI PASI
SHRIKANTA MAITI
SILEMAN RAHEMAN SHAIKH
SIVA PHANI KUMA SINGARAJU
SKYTREK ENTERPRISES
SMT VINITA SHASHANK SHUKLA
SNEHLATA MISHRA
SONUSINGH PRABHATILA THAKUR
SOUMEN ACHARYA
SUBBAYA SHETTY
SUBODH CHANDRA SAHA BAKSHI
SUDHEESH MARNAD
SUGANYA.
SUGRA KHATUN
SUMANTA KUMAR PAL
SUNIL PAWAR
SURABHI SINGH
SURENDRA KUMAR
SURESH KUMAR JAIWAR
SURESH KUMAR P.A
SURESH KUMAR SHARMA
SUTAPA PATRA MANNA
SWAPAN BARUA
SWAPNA RANI NAYAK
SYED SHAH KAMAL QUADRI
T CHARAN SINGH
T P DILEEPKUMAR
T POWL RAJ
TANISHKA ENTERPRI
TAPAN BHOWAL
TARA R SONAR
TATIKONDA KISHORE
TEENA TYAGI
THIRUPATHI VENKATA RAJU
UDAY BHANU PRAT
UMA DEVI MUTHIAH
UMA RANI M
UMESH SINGH
UPKAR SINGH
V.T. RAAJESH KANNA
VAISHALI VIJAY SHINDE
VAJARAMBHANARAMJI CHOUDHARY
VASANTIBEN MANISH PATEL
VEERA KUMARA NAIDU G
VIJAY KUMAR KAUSHIK
VIJAY LAXMI
VIJAY S. DANDGE
VIJU P V
VINEETTA MODI MAJUMD
VINOD GALHOTRA
VIPAN KUMAR
VISHAL DILIPBHAI PITHADIYA
VISHAL NAGESH BEKELLU
VISHNU KANT
VISHVAS CHAUHAN
YASHPAL
YEASIN ALI MONDAL
YOGENDRA SHARMA
Diamond & Crown Directors
Vestige has 1700+ Diamond and 800+ Crown Directors. From Diamond to Crown Directors there approx. salary is around 45 to 70,000 Rs per month.
You can view the name of all vestige ambassadors to diamond directors on the Vestige Official site.